Prawn Chilly
---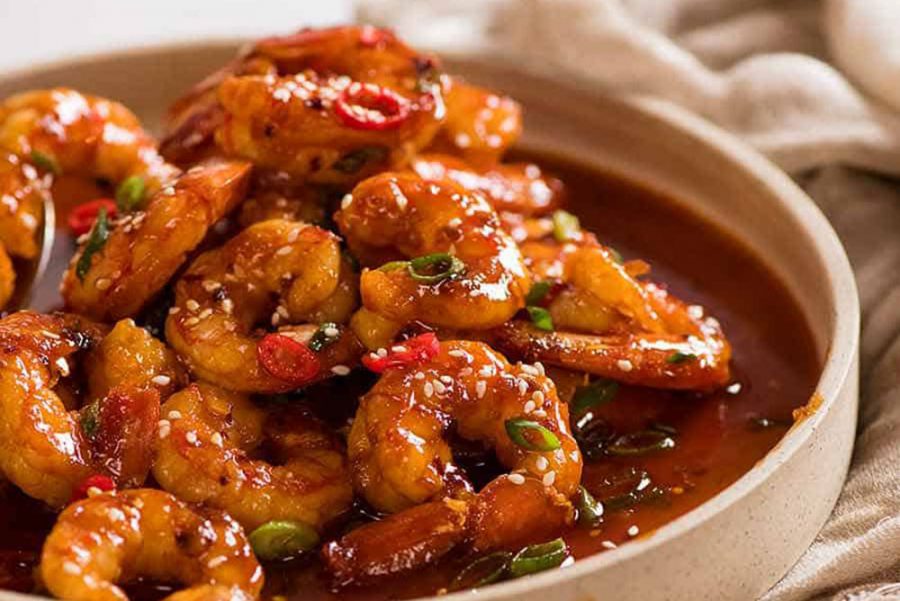 INGREDIENTS
500g / 1 lb prawns / shrimp, raw, , peeled and deveined
1 1/2 tbsp vegetable oil (or canola)
1 tsp sesame oil , toasted
3 garlic cloves , very finely minced
2 tsp ginger , grated or finely chopped (can be omitted)
1 tsp chilli flakes*
1/2 cup (125 ml) water
3 tbsp Sriracha
2 tsp soy sauce , light or all purpose
3 tbsp brown sugar (sub with white)
Yield: 3 servings
INSTRUCTIONS
1. Heat oil in a large skillet over high heat. Add half the prawns and sear for about 45 seconds on each side until golden, then remove into bowl. Repeat.
2. Remove skillet from stove to cool down slightly, turn down to medium.
3. Return skillet to stove, heat sesame oil.
4. Add garlic, ginger and chilli flakes. Cook until garlic turns golden.
5. Add water, then Sriracha, soy sauce and sugar, Stir, increase heat to medium high, and let it simmer for 3 minutes or
6. until the sauce starts to thicken to a thin syrup consistency.
Return prawns into skillet and toss to coat in sauce and reheat, and cook for 1 – 2 minutes until sauce is reduced and coats the prawns nicely.