Naan Bread
---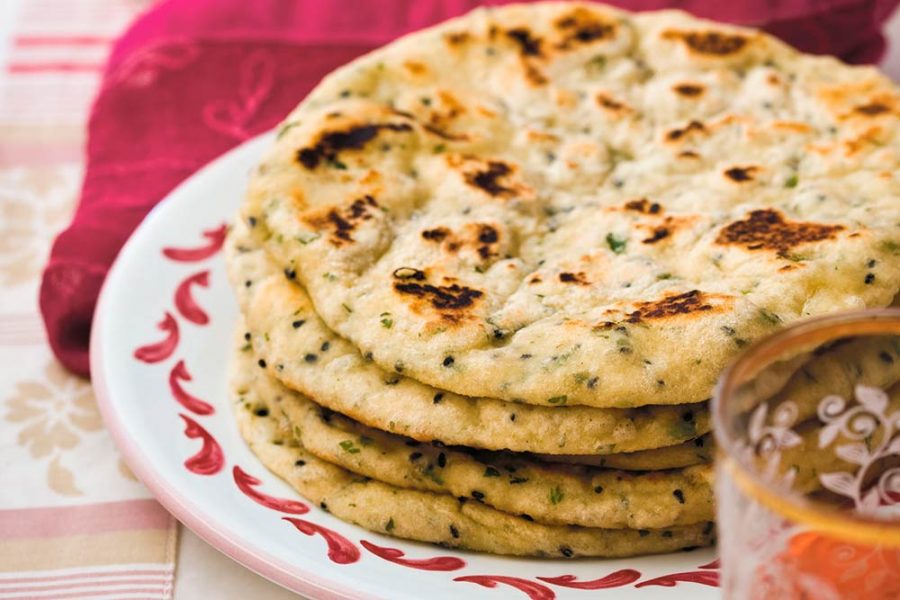 INGREDIENTS
2 cups all-purpose flour ( or a combo of ½ wheat and ½ unbleached white bread flour is nice)
1 teaspoon salt, more for sprinkling
1 teaspoon instant yeast or rapid-rise yeast ( see notes for Active Dry Yeast)
3 teaspoons sugar
¾ cup warm water
¼ cup plain yogurt
1 tablespoon olive oil
Garnish: 2 tablespoons Ghee (or butter, but really , ghee is best! ) 1-2 tablespoons fresh herbs – cilantro, parsley, scallions or chives.
Yield: 4 Servings
INSTRUCTIONS
1. In a large bowl, whisk flours, sugar, yeast and salt together. If adding whole spices, add them now.
2. In a medium bowl, stir ¾ cup warm ( 100F) water with olive oil and yogurt.
3. Pour the yogurt mixture into flour mixture and combine with a fork, and with a floured hand, knead the dough until just a few times and form a ball. Drizzle with a little olive oil to coat all sides of the ball and place it back in the same bowl and cover with plastic wrap. Place the bowl in a warm spot in the kitchen ( the warmer the spot, the faster it will rise) and let rise until it doubles in size – 1 to 2 hours. (TIP: I'll often place rising dough on the top of my stove with my oven set to the lowest setting.)
4. When dough has doubled, place it on a well floured surface, and roll into a 10-12 inch log, then divide the log into 6 pieces.
5. Roll each piece out into a ⅛-¼ inch thick round or oval, about 4 by 8 inches long. They don't have to be perfect and can be any shape, just make sure thickness is uniform, and is not more than ¼ inch thick. If adding garlic or onion, press some of the finely minced garlic into the dough on one side, just using your fingers and you can actually do this in the pan if you want. You can also roll the garlic into the dough, when it rolling out.
6. Heat a DRY cast iron skillet over medium to med-high heat. Cooking one naan at a time, place it in the hot skillet, and cook until large bubbles appear on the surface, and bottoms are deeply golden ( check after a couple minutes) then flip. Cook for a few more minutes on the other side until the bubbles are deeply golden, then set aside and cover with a towel or foil to keep warm.Cook all the naan, then brush each one with ghee, and a light sprinkling of salt, stacking. (You can keep them stacked, wrapped in foil in a warm oven until ready to serve.)
7. Right before serving, sprinkle with chopped cilantro, parsley, or scallions.