Chicken tikka with spiced rice
---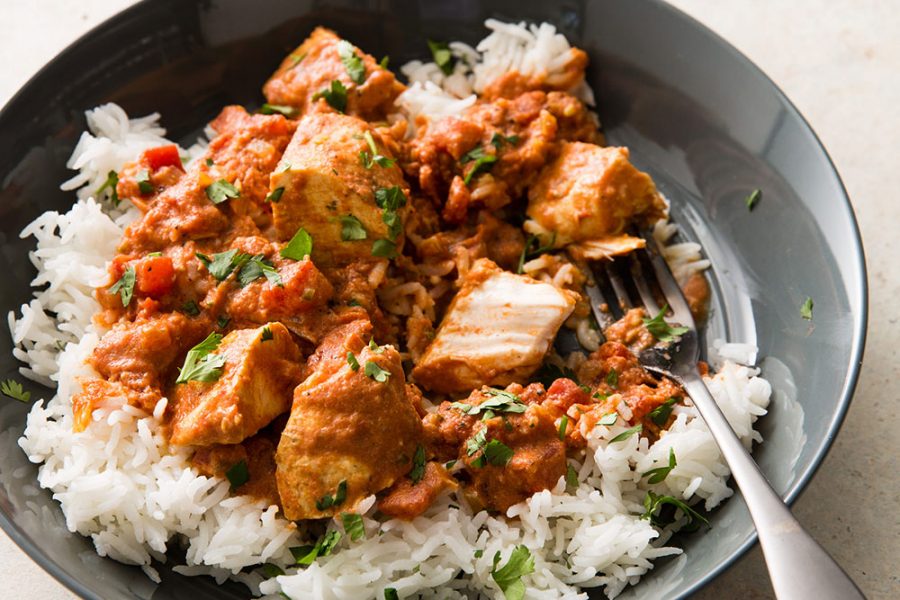 INGREDIENTS
4 skinless chicken breasts
150g pot low-fat natural yogurt
50g tikka paste
100g/4oz cucumber, diced
1 tbsp roughly chopped mint
leaves
1 red onion, cut into thin wedges
140g easy-cook long grain rice
1 tbsp medium curry powder
50g frozen pea
1 small red pepper, diced
Yield: 4 servings
INSTRUCTIONS
1. Slash each chicken breast deeply with a knife 3-4 times on one side. Put in a bowl and add 50g of the yogurt and the tikka paste. Mix well, cover and marinate in the fridge for 30 mins. Make the raita by stirring the cucumber and most of the mint into the rest of the yogurt. Season with black pepper, cover and chill.
2. Heat oven to 240C/220C fan/gas 9. Scatter the onion wedges over a foil-lined baking tray. Remove the chicken from the marinade, shake off any excess and place on top of the onion wedges. Cook for 20 mins.
3. Meanwhile, tip the rice, curry powder, peas and pepper into a pan of boiling water and simmer for 10 mins or until the rice is just tender. Drain well and divide the rice between 4 plates. Add the chicken, roasted onion and remaining mint. Serve with the cucumber raita.