Indian Chicken Korma
---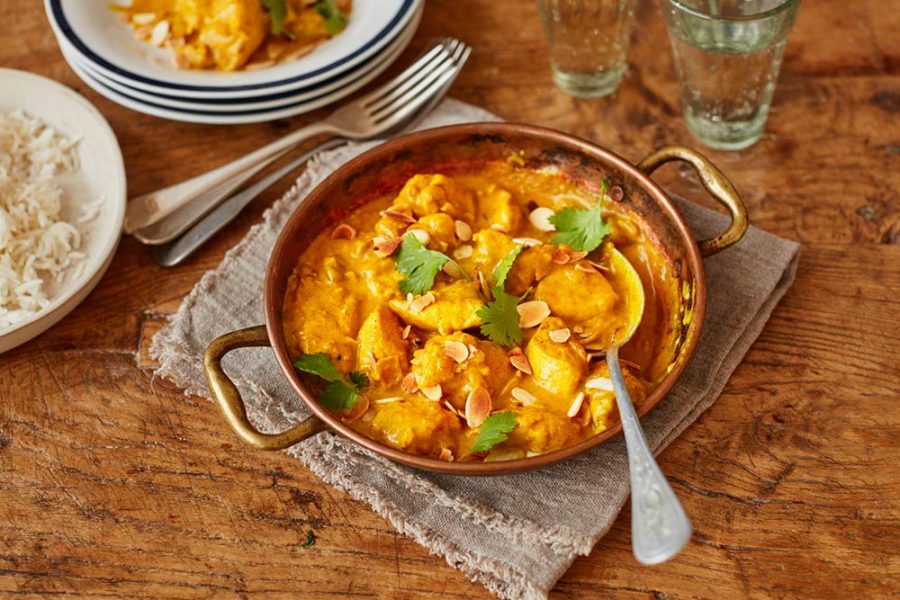 INGREDIENTS
6 chicken thighs boneless and skinless
2 tablespoons tomato paste
1 tablespoon sized piece of fresh ginger peeled
2 cloves garlic
1 tablespoon garam masala
1/4 teaspoon crushed red pepper
1/2 teaspoon paprika
1 teaspoon ground cardamom
1/2 teaspoon kosher salt
1/2 teaspoon turmeric
1/2 cup almonds
3/4 cup greek yogurt
1 tablespoon canola oil
3 tablespoons butter
1 yellow onion diced
1/4 cup heavy cream
Yield: 4 Servings
INSTRUCTIONS
1. Cut the chicken thighs into small 1 1/2 to 2 inch chunks and put them in a large bowl.
2. Add the tomato paste, ginger, garlic, garam masala, crushed red pepper, paprika, cardamom, salt, turmeric and almonds into a food processor on high
3. speed until completely smooth.
4. Add the mixture to the bowl with the chicken along with the yogurt and mix well.
5. Cover and refrigerate for 1-2 hours.
6. Add the canola oil and butter to a large cast iron skillet or heavy skillet on medium high heat.
7. Add the onions and cook for 5-7 minutes, or until just caramelized.
8. Add in the chicken and cook for 12-15 minutes or until the chicken is cooked through.
9. Add the heavy cream to the skillet and mix well, cooking for an additional 3-4 minutes.