Lamb Korma
---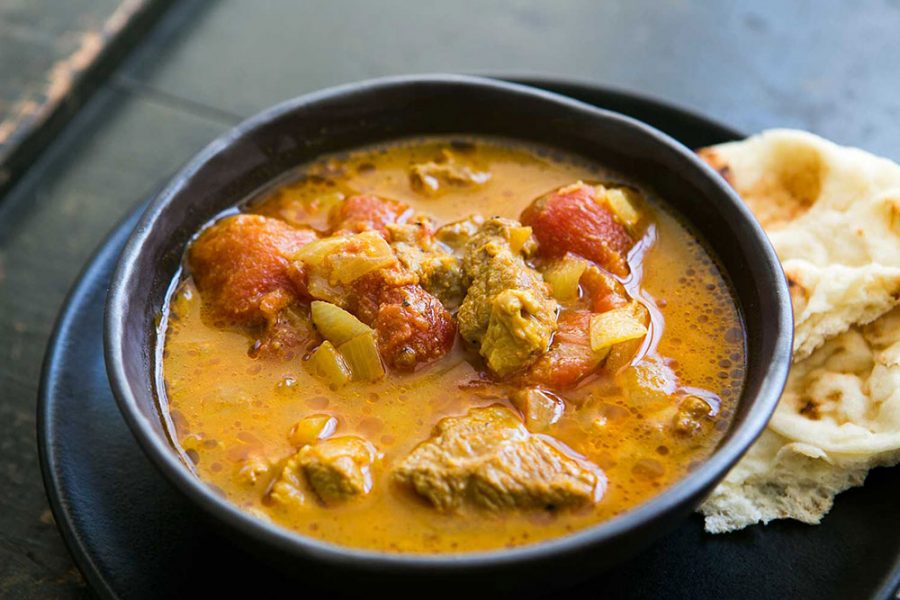 INGREDIENTS
8 whole cloves (or 1/2 teaspoon ground cloves)
1 Tbsp black peppercorns (or 4 teaspoons ground pepper)
5 green cardamom pods (or 1/2 teaspoon ground cardamom)
1 Tbsp coriander seeds (or 3 1/2 teaspoons ground cardamom)
1 heaping teaspoon cumin seeds (1 1/2 teaspoons ground cumin)
5 Tbsp of light sesame oil or canola oil
3 medium yellow onions, roughly chopped
2 garlic cloves, crushed
1 heaping Tbsp grated ginger
2 teaspoons turmeric
1 heaping teaspoon paprika
1 stick of cinnamon, ground, or 1 teaspoon of ground cinnamon
4 very big, very ripe tomatoes, cut into 1-inch chunks OR 1 28-ounce can whole, peeled tomatoes, cut in quarters
2 1/2 to 3 1/2 pounds boneless lamb shoulder or leg, cut into 1-inch chunks
2 1/2 cups water
1 1/3 cups full fat plain yogurt (can use Greek style)
Salt
Yield: 6-8 servings
INSTRUCTION
1. Grind and crush the spices: Using a mortar and pestle, grind the cloves until fine. Add the peppercorns and grind them roughly. Add the cardamom pods and crush them with the cloves and peppercorns.
2. Cook the onions, add spices: Heat the oil over medium-low heat in a large, thick-bottomed pot with a lid. Add the chopped onions and cook, stirring often, until golden, about 10 minutes.
Add the turmeric to the onions, and stir to coat. Add the cumin, coriander, paprika and cinnamon. Stir in the ground cloves, cardamom, and peppercorns. Add the crushed garlic and the grated ginger. Cook for 2 minutes.
3. Add the tomatoes (with their juices) to the pot and bring to a simmer. Cook for 4 minutes.
4. Add the lamb pieces to the pot, stir to coat with the spices, onions and tomatoes, and let cook for 4 minutes.
5. Stir in the water and yogurt and mix well. Add salt to taste. Cover the pot, bring to a simmer and reduce heat to a very low simmer. Cook very gently for 2 hours or more, stirring every 15 minutes or so. The stew should cook at a bare simmer until the lamb is very tender.