Beef Vindaloo
---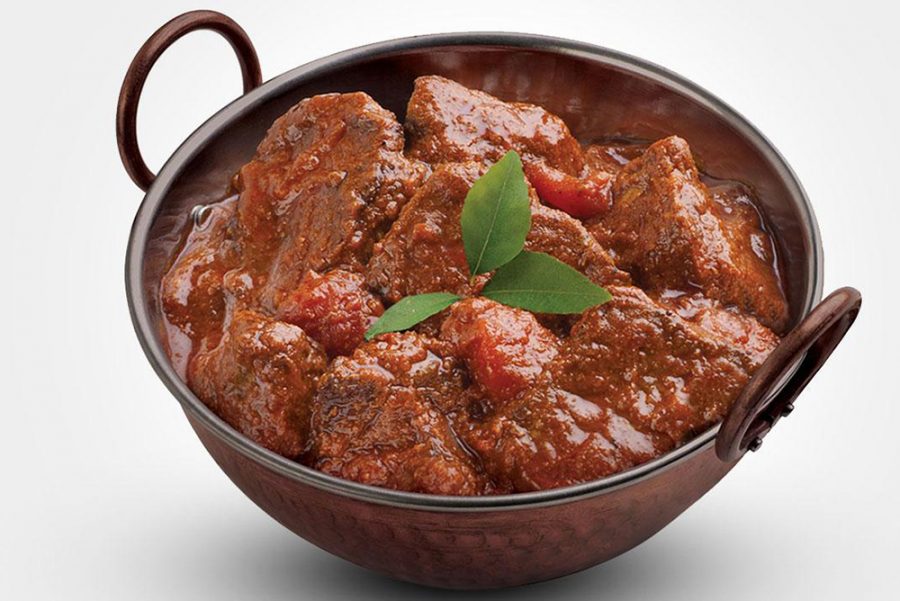 INGREDIENTS
1,3 kg beef chuck, cut into 2-inch cubes
1 t sea salt, plus more to taste
1 t ground black pepper, plus more to taste
4-5 T vegetable oil (my current favorite is avocado)
2 t brown or black mustard seeds
3 yellow onions, chopped
8-10 cloves garlic, minced
2 inch knob of fresh ginger, minced
1/2 t cayenne pepper, or more to heat tolerance
2 t paprika
1/2 t turmeric
2 t ground cumin
1 1/2 t cinnamon
1 pinch ground cloves
2 t garam masala, divided
1/3 cup apple cider vinegar
1/2 cup water
1-3 t brown sugar, optional
Yield: 1 serving
INSTRUCTIONS
1. Sprinkle 1 teaspoon each of salt and pepper over the cubes beef. Massage it into the meat and then set it aside to rest for 10 minutes.
2. Heat the oil in either a large skillet or a cooktop-safe slow cooker insert over medium high heat. Place some of the beef cubes into the pot in a single layer–do not crowd the pan, you can brown the beef in batches. Brown the cubes, about 8 minutes, before removing to the bowl and adding the next round. When you are done, place the beef in the bowl and set it aside.
3. Add the mustard seeds to the pan. Ideally, they will pop before you add the onions, but if there is a lot of beef remnants stuck to the pan, do not let those burn. If you have time for the seeds to pop, cover the pan with a lid slightly ajar so the seeds do not pop out of the pan.
4. When the popping has slowed–or when you are concerned the pan may scorch, add the onions with a pinch of salt. Stir, scraping up the bottom of the pan as the liquid from the onions deglazes the pan. If you have anything seriously stuck to the pan, splash a little water into the pan.
5. Cook the onions for 15 minutes, until caramelizing. Keep a cup of water beside the cooktop to splash some in if the onions start to stick or scorch.
6. When the onions are brown, add the garlic and ginger. Cook for 2 minutes, stirring.
7. Add the remaining individual spices and one teaspoon only of the garam masala. Stir to roast the spices but do not let them burn, 1-2 minutes.
8. Add the vinegar to the pan and scrape up any stuck bits.
9. Either scrape everything, including the browned meat, into the slow cooker insert, or add the meat to cooktop safe slow cooker insert. Stir in the water.
10. Place on the slow cooker base. Cover and cook for 4 hours on high or 6-8 hours on low.
11. Before serving, mix in the other teaspoon of garam masala. Taste for additional salt or even more garam masala. Taste for brown sugar (you are not looking for it to be sweet so much as smoothed out a bit).
12. Serve with Basmati rice and some Greek yogurt for dolloping in case it is too spicy for anyone.