Lamb Vindaloo
---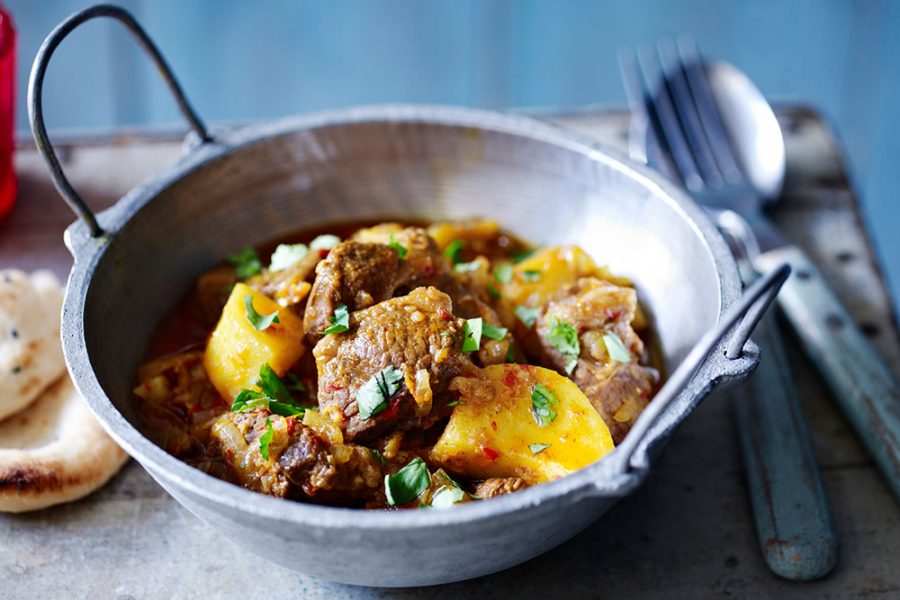 INGREDIENTS
1.3 kg/3lb boneless lamb shoulder, cut into roughly 4cm/1¾ in chunks
100ml/3½fl oz red wine vinegar
2 tbsp sunflower oil
2 tsp sea salt flakes
500g/1lb 2oz potatoes, peeled and cut into roughly 2.5cm/1in pieces
For the sauce
125ml/4½fl oz sunflower oil
4 onions, 3 finely sliced and 1 chopped
6 garlic cloves, roughly chopped
3 long red chillies (do not deseed), roughly chopped
25g/1oz fresh root ginger, peeled, roughly chopped
1 tbsp English mustard powder
1 tbsp ground cumin
1 tbsp ground coriander
1 tbsp ground paprika
2 tsp ground turmeric
2 tsp cayenne pepper
1 tsp ground cinnamon
2 tsp sea salt flakes
Yield: 6 servings
INSTRUCTIONS
1. Trim the lamb, discarding any really hard lumps of fat and sinew. Mix the vinegar, vegetable oil and salt in bowl until well combined. Add the lamb and turn to coat in the marinade. Cover and chill in the fridge for two hours.
2. Preheat the oven to 180C/350F/Gas 4.
3. For the sauce, heat three tablespoons of the sunflower oil in a large heavy-based frying pan and cook the sliced onions very gently over a medium-low heat for 15 minutes until softened and lightly browned, stirring occasionally.
4. While the sliced onions are cooking, put the remaining chopped onion, garlic, chillies, ginger, mustard powder, cumin, coriander, paprika, tumeric, cayenne pepper and cinnamon in a food processor and blend to a purée.
5. Stir the purée into the fried onions. Add two tablespoons of oil and cook together for five minutes, or until thickened and beginning to colour. Remove the mixture from the pan and place into a casserole dish.
6. Drain the lamb in a colander and reserve the marinade. Return the frying pan to the heat and add two tablespoons of the remaining oil. Fry the lamb in four or five batches over a medium-high heat, turning occasionally until lightly browned. Add a little extra oil if necessary. Add the lamb to the casserole.
7. Pour the reserved marinade and 500ml/17fl oz water into the casserole dish. Add the salt and bay leaves and bring to a simmer. Cover the surface of the curry with a piece of greaseproof paper, then cover with a lid. Cook in the oven for 45 minutes.
8. Remove the casserole from the oven and stir the potato chunks into the curry, re-cover with the greaseproof paper and the lid and continue to cook for a further hour or until the lamb and potatoes are very tender. Season, to taste, with salt.
9. Serve with spoonfuls of yogurt, chopped coriander and rice or wamed naan bread.